Circular North America side event focused on the opportunities, issues and challenges associated with advancing North America's circular transition.
Observations showcase the importance of circular procurement and supply chain management to overcome circular implementation barriers.

The Government of Canada released a Discussion Paper to stimulate dialogue at 'Circular North America', a World Circular Economy Forum side event that took place on November 19, 2020.
Environment and Climate Change Canada and the United Nations Environment Programme North America Office co-convened the event, in partnership with the Circular Economy Leadership Coalition, the Ellen MacArthur Foundation, and MIT Solve.
The objective was to inspire an action agenda focused on accelerating the long-term transition to a circular economy in North America.
THE CIRCULAR ECONOMY AS A FRAMEWORK FOR PROSPERITY
The circular economy has come to the forefront as a solution for moving away from today's linear 'take-make-waste' society, addressing growing environmental and social challenges and risks while generating significant economic benefits. Defining the opportunities for North America requires an understanding of where things are today, what the end goal is, and how to get there – identifying relevant natural resource industry strengths while leveraging service-based sectors and the broader innovation ecosystem.
NORTH AMERICA'S STARTING PLACE
The following characteristics can provide a foundation for North America's successful circular transition:
Industrial base and natural resource strengths: Scarcity of resources is less likely to be the primary motivation for the circular economy in North America. Innovation in areas such as the bioeconomy, mineral and metal recycling, and secondary manufacturing and remanufacturing present some of the largest growth potential with the appropriate incentives for investment.
Population density and geography: North America's relatively low population density has created unique challenges in terms of the cost of doing business and the investments needed to support the required infrastructure and service delivery models of the circular economy.
Culture and mindset: Despite high consumption and waste generation trends, North America has the potential to deliver an inclusive circular economy by capitalizing on the region's diverse cultures and identities.
Underlying infrastructure: Infrastructure gaps can allow jurisdictions to "leapfrog" the traditional waste management system and focus more on the upstream components of material flows in areas such as product redesign, reuse, repair, remanufacturing, and enhanced recycling.
Innovation and corporate leadership: The innovation ecosystem in North America is well-advanced, with corporate leadership on key issues and applied research in areas such as synthetic biology, material innovation, artificial intelligence, digital platforms, and more. This offers great potential for integrating circularity principles in upstream interventions, including product design.

Policy, governance, and jurisdictional control: While policy leadership on circular economy is growing at all orders of government, more is needed to ensure alignment and harmonization across the region.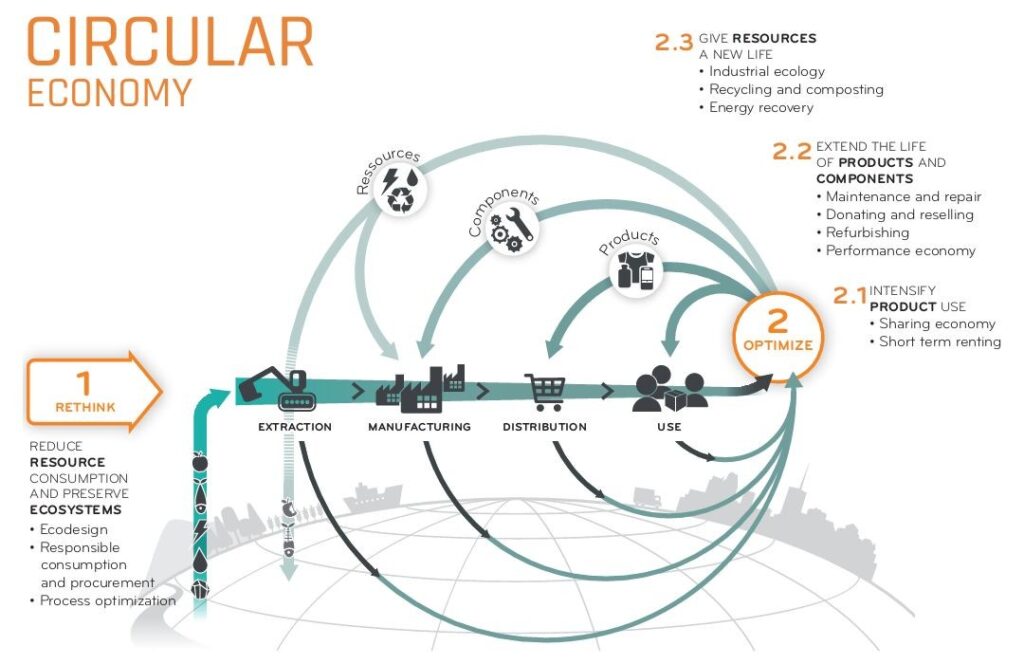 Image Source: Institut EDDEC in collaboration with RECYC-QUEBEC.
ACCELERATING THE CIRCULAR ECONOMY IN NORTH AMERICA
Accelerating a circular economy in North America will require changes to business models, practices, and policies. Key barriers to be addressed include:
Lack of awareness, information, and demand for circular products and solutions;
Cost challenges compared to the extraction and linear use of materials and natural resources;
Lack of harmonized policies, standards, and frameworks;
Siloed approaches across sectors and within industries, including insufficient 'systems thinking'; and
Gaps in innovation, technology, infrastructure, and financing.
HOW CIRCULAR PROCUREMENT ADDRESSES KEY BARRIERS
Circular Innovation Council has long been a champion of circular procurement as a tool to advance circular economies in communities across Canada. As a tool it offers a series of benefits when purchasing with circularity in mind:
Redefines values and focus on outcomes:

Draft performance-based RFPs not specifications.
Challenge designers with those outcomes.

Works early and often with suppliers:

Socializes awareness and knowledge of circular products and solutions.
Encourages creativity and innovation.

Identifies key success indicators: track, measure, and share.
Uses market insights and indicators to inform development of circular procurement specifications.
Aligns priorities and streamlines delivery to break down silos.
Read the report in full